How to waterproof your basement (Video)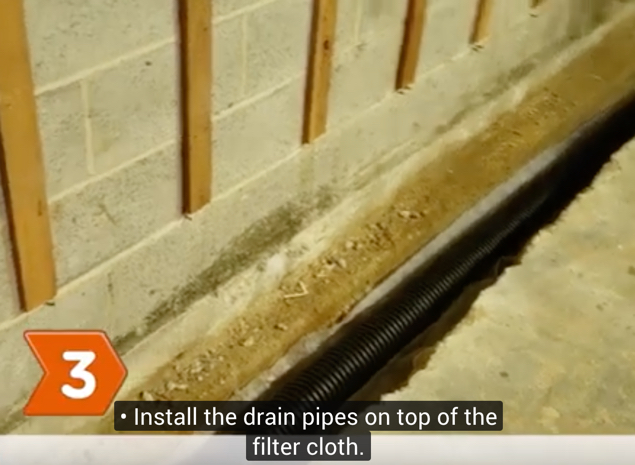 As we all know, leaking basements can become a major issue if left untreated. Growing mold and mildew can be very dangerous, and in some cases even deadly, especially for kids and the elderly. Ideal conditions for the mold to grow is humid, dark and damp spaces. By eliminating those conditions you can create a foundation for a healthier home.
In this brief video below, we will show you how to properly install a waterproofing system in your basement.
It goes w/out saying that the perfect timing to waterproof the basement is prior to finishing it.
First, you would need to break down the concrete floor, all the way down to the footer, around the entire perimeter walls and haul the trash away. We recommend going out at least 12-18 inches from the the wall. Make sure when breaking the floor to tunnel under permanent objects. Waterproofing systems will simply fail if they are not inner connected throughout.

Dig sump pump pits. Rule of thumb - 1 pit per 100 linear feet. 

Once dug out and cleaned, lay filter cloth.

Install the drain pipes on top of the filter cloth. Make sure to fish them through the tunnels to connect.

Fill it with gravel.

Optionally, you may choose to install a vapor barrier to prevent additional moisture seeping through the walls. 

Install miradrain and complete gravel fill.

Install the crock inside the pit

Run piping to the sump pump pit

Cut a hole for the discharge line to the outside

Install the sump pump

Attach sump pump to discharge line and interior piping. Make sure that the sump pump has its own dedicated outlet. We recommend installing a battery backup system to prevent the pump failure should the electricity fail. 

Test the sump pump by filling the crock with water. Make sure it's plugged in.

Close the crock lid. 

Fill the perimeter with concrete to match existing floor level.


Needless to say that it's a very labor intensive project and you really need to know what you are doing. Hire only skilled professionals who fully understand the installation process to protect your investment. Remember, a building is only as strong as its foundation.