Basement Waterproofing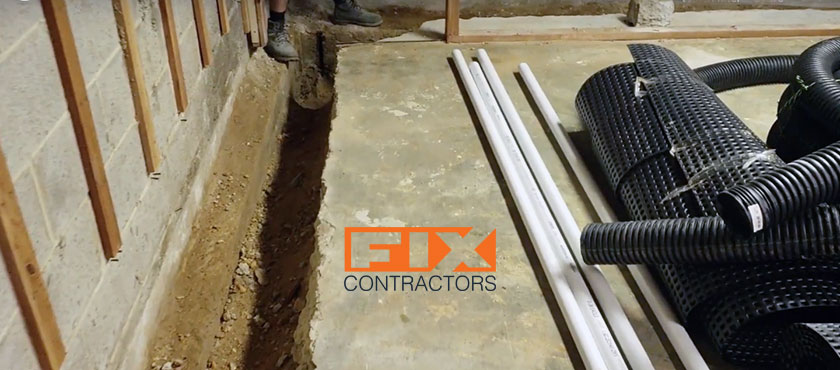 For many homeowners, basement waterproofing is necessary. Most unfinished basements feature the perfect storm of factors that can translate into mold and mildew, both of which can be toxic for the entire family. This is especially true of homes that include groups more sensitive to air quality, such as children or the elderly.
The solution to a damp basement is waterproofing.
The idea of basement waterproofing can make many homeowners wince. The project is a big undertaking even when done professionally. However, a basement that needs waterproofing truly does need it.

Here are some pros and cons to basement waterproofing.
---
Pros
It is Good For Your Home: A waterlogged basement can cause significant damage in a home. Though waterproofing is expensive, fixing water damage to your foundation is much more expensive. Foundation repairs can cost more than $10,000.
It's Good For Your Health: More important than maintaining your home value, waterproofing maintains the health of your family. Exposure to mold and other waterborne toxins can lead to illness, including severe lung infections.
It Will Help Resale Value: While basement waterproofing will not necessarily have a direct positive impact on your homes value, it will solve a problem that can lower your home's value.
Homes that require waterproofing services may be valued less when they hit the market.
Basement Waterproofing Will Allow You To Refinish Your Basement: Basement finishing is a great way to increase the value of your home and give your family more space to enjoy. However, basement remodeling is not a good idea if you haven't waterproofed yet.
---
Cons
It's Invasive: Waterproofing services are invasive. When done thoroughly, they may involve extensive work throughout your basement.
It's Expensive: Basement waterproofing is also expensive. Prices will vary from project to project, but in general, it is a pricey endeavor.
---
Knowing When Your Basement Needs to be Waterproofed
If something you've seen in your home has made you wonder if you need waterproofing services, it may be a symptom that you in fact do.
Here are a few other signs that usually mean it is time for some basement waterproofing.
Damp Odor
If your basement smells damp, it means that there is seepage somewhere. Though the water itself won't always be visible, a damp odor is always one of the most obvious signs that a basement has a moisture problem.
Mold
Mold is another big sign that your home has a moisture problem. If you identify unusual discoloration or growth anywhere in your basement, it is always smart to contact a professional.
Cracks in Wall and Floor

There are many reasons a floor or wall might experience cracks, but one of them is from hydrostatic pressure build up beneath your home.
These cracks are often ways of entry into your basement for seepage. Cracks will grow over time if they are not addressed.
Water Stains
Moisture problems may also leave water stains on your basement windows or walls. These stains will usually indicate some exterior source of water infiltration that is coming in from above your foundational wall.
These marks may appear quite suddenly, but are likely to continue occurring if the problem is not addressed through basement waterproofing.
Swollen Wood
If you have wooden fixtures in your basement, excessive moisture will cause them to swell. This is a sure sign that you have a moisture problem, and it may also be another repair you need to make.
Wood swelling can be as dramatic as a compromised joist, but it can also be subtle. For example, if you have a wooden door in your basement that is suddenly very difficult to close, it may be the result of a moisture problem.
Efflorescence
If you observe effloresce, or sparkling in your basement concrete walls and floors, it is another indicator that you need basement waterproofing. This sparkling effect is the result of light reflecting back against mineral deposits that found their home in your basement through water infiltration.
Water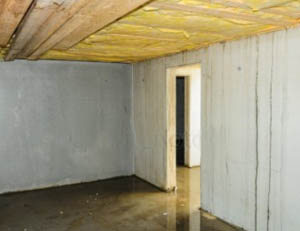 A flooded basement is the most obvious sign that you need to waterproof. Your basement may flood substantially, or in smaller, less serious ways.
In any case, clear water intrusion is always the most obvious sign that you need to implement a basement waterproofing strategy.
However, if you are able to observe the symptoms we've already listed, you may be able to prevent the problem before it ever comes up.
Refinishing Your Basement
If you have lots of basement ideas you would like to see facilitated in your home, waterproofing will often be the first step. A waterproofed basement can be finished confidently without the fear of substantial water damage down the road.
Like basement waterproofing, basement finishing is another sound investment in your home.
Your finished basement ideas can potentially increase your houses resale value. Many factors can contribute to how much this is the case. However, a smart basement renovation can, on average, can correlate with a 70.3% return on your investment.
The benefits extend to an improved personal enjoyment of your home as well. A good home remodel will open up more space and give you lots of *new* square footage to take advantage of.
Done the right way, basement remodeling will be a practical, enjoyable investment that you can implement on your property.
Conclusion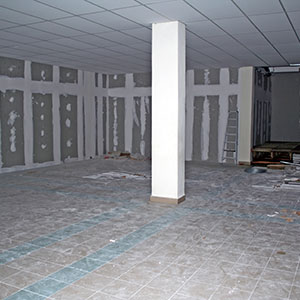 Home maintenance doesn't need to be horrible. Basement waterproofing and basement remodeling are both sound, and sometimes necessary fixes that homeowners may need to consider.
At Fix Construction we offer both services to our customers. Basement waterproofing can be critical both for you and your home, while a basement remodel can simply be a fun way to improve the value of your entire home.
Click Here to Watch our Video: How to Waterproof Your Basement
REFERENCES:
Bros, Abry, 26, July 2016 "How Much Does it Cost to Repair A Foundation" Retrieved From: https://texashomeandgarden.com/idea-center/foundations-flooring/how-much-does-it-cost-to-repair-a-foundation
"Facts about Mold and Dampness" Retrieved From: https://www.cdc.gov/mold/dampness_facts.htm
Ballinger, Barbara "Finished Basement Adds Space and Value to Home" Retrieved From: https://www.hgtv.com/remodel/interior-remodel/finished-basements-add-space-and-home-value