Basement Finishing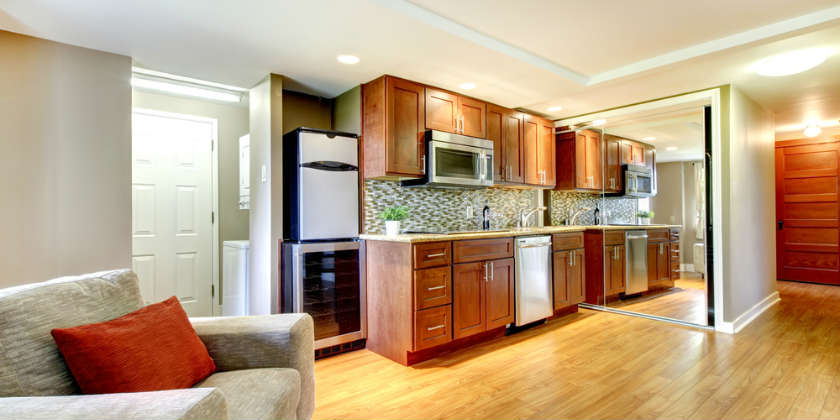 Basement finishing is a great way to add personal value to your home, and increase your enjoyment of the space that you live in. Usually cheaper than an addition, a finished basement can provide a similar (or better) ROI and effectively *add* square footage to your home.
Basement finishing is great for many homeowners, but doing it right is key if you want to maximize the value of your investment. Here are some things you should think about before you start building the basement of your dreams.
Waterproof First
If moisture infiltration is a concern with your home (and it should be, 60% of American basements experience water problems) than waterproofing is the first thing that you should do before you consider an extensive renovation.
The reason for this is simple. If you finish your basement without waterproofing and then experience a moisture problem, the mitigation process may do costly damages to your renovations.
It is much easier and more cost-effective to waterproof an unfinished basement than one that has been remodeled.
The pros of waterproofing your basement are enormous. While the process may not add literal value to your home, it can mitigate the risk of foundational damage due to water—which can cost tens of thousands to repair.
There is also a substantial health incentive to consider. While 60% of homes are susceptible to moisture infiltration, 30% are likely to experience mold at some point.
Mold, especially in homes with the very young, or the very old, can have deadly health consequences.
You can usually tell that your basement needs to be waterproofed before it gets flooded by paying attention to a variety of factors. Warped wood, an effervescent quality to the paint on your walls, and water stains on your windows are all good indicators that you might have a water problem.
Bottom line? Waterproof before you do anything else. Waterproofing plans are usually very individualized to the layout and needs of your home, so contact a qualified professional, like Fix's Construction to set up a strategy that works for you.
The Cost to Finish a Basement
The cost to finish your basement will ultimately be relative to a number of factors that are exclusive to your home. However, there are rules of thumb that you can use to give yourself a rough estimate of how much money the undertaking will cost.
The cost to finish a basement usually ranges between $10-40 per square foot. The difference will depend on how intricate you go, and how much work you are able to do for yourself.
Naturally, simpler finishing and remodels will cost closer to $10 per square foot, while more intricate finishing's will tilt towards the higher end of the price spectrum.
Basement Insulation
For your downstairs to be a truly finished space, you will need to invest in some basement insulation. Older homes often do not have any form of basement insulation, but with newer remodels it is often part of the building code, meaning you have to do it.
Common insulation materials will include spray foam, fiberglass, or foam board. Home insulation costs vary depending on the material and the conditions, but in general will range between $2.68-$6.99.
Basement Flooring
For your basement to be livable you will want to do away with the crumbling concrete floor as well. Basement flooring can be one of the costlier elements of the home renovation but it is also integral.
The cost of basement flooring will be contingent on the material that you use.
It can cost anywhere from $3-20 depending on what materials you use. Tile and carpeting are often on the cheaper side while hardwood can be extremely expensive.
The Extras
The more all out you go on your renovation ,the more it will cost. Similarly, the lower return you will see on your investment. For example, adding a spa to your basement will increase your personal enjoyment of the space significantly, but it is likely to cost more than the value it adds to your home.
The same may also be true of the classic basement bar. Homeowners can pay anywhere from $5000-13,000 for a bar with a sink and decent countertops.
As an investment, these extras may or may not pay off. That said, most homeowners don't feel that they have much to complain about when they are relaxing in their spa, or making cocktails at their bar.
Basement Remodeling
Basement remodeling can, in theory anyway, be simpler, and more cost-effective than basement finishing. However, a remodeled basement is also likely to have already been finished.
Basement remodeling could cost $1,000 if you keep things very simple, or it could cost tens of thousands if you want everything to your precise expectations.
A remodel could involve anything from new floors, to new countertops, or even the addition of a bedroom or bathroom (both of which can offer substantial returns on your investment, by the way).
The right company will be able to work with you to come up with a remodel plan that suits your expectations as well as your budget.
Conclusion
For many homeowners, waterproofing, finishing, and remodeling their basement is a great idea. Basement finishing is both financially and personally rewarding, making it one of the most sensible and practice ways that you can add money to the value of your home.
Of course, it matters who you use to perform your basement finishing. Working with someone that you can trust will make all the difference between a job done well, and one that leaves you dissatisfied.
If you are considering a basement finishing, contact Fix's Construction, for a professional consultation.
---
References:
D, Wagner, Drying Out a Wet Basement, Retrieved from: https://www.thisoldhouse.com/how-to/drying-out-wet-basement
What is the cost of a basement? January 7, 2017 Retrieved from: http://www.ifinishedmybasement.com/getting-started/cost-of-a-basement/
Cost to Insulate a Basement Retrieved from: https://www.homewyse.com/services/cost_to_insulate_basement.html
Building a Bar in Your Basement, Retrieved From: https://www.angieslist.com/articles/building-bar-your-basement.htm
Karasik Caroline, The Cost of Remodeling a Basement, Retrieved from https://www.hgtv.com/remodel/interior-remodel/basement-remodeling-costs