Services Area Map
We encourage you to contact us even if you are not able to find your area in the list below. Please keep in mind that Fix Construction, Inc. is rapidly growing in Maryland, Washington DC and Baltimore Metro area and expanding its service areas for your convenience!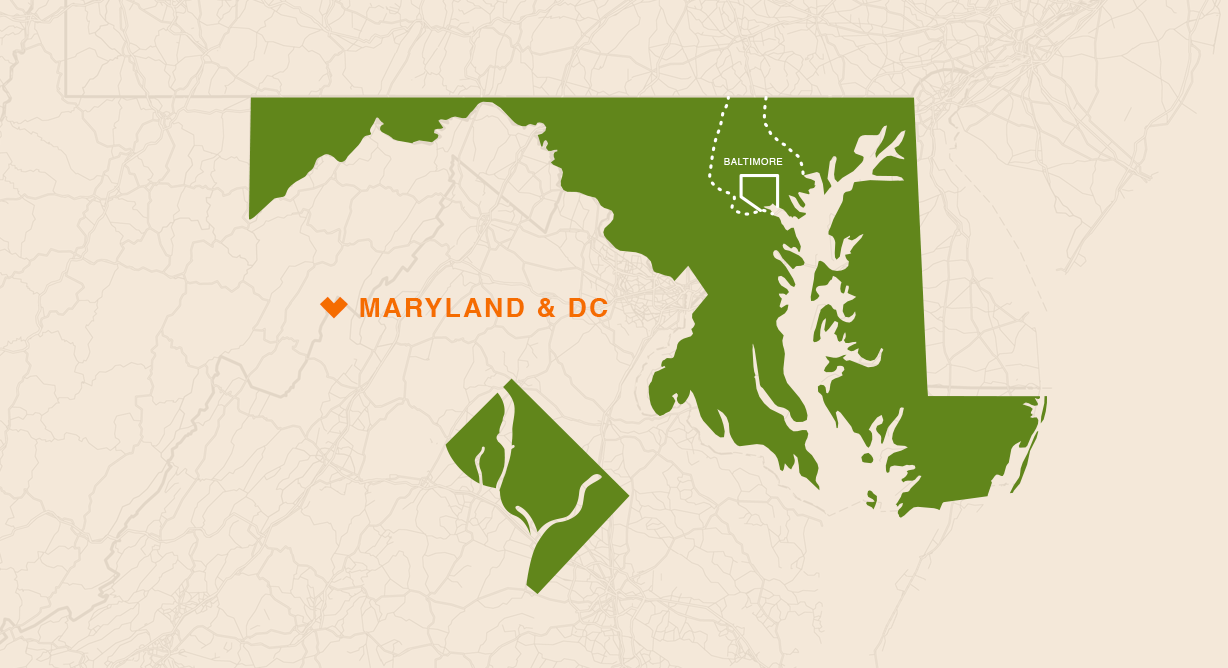 Fix Construction, Inc. Service Areas in Maryland (MD)
Anne Arundel County, Annapolis, Arnold, Baltimore, Beverley Beach, Brooklyn Park, Cape Saint Claire, Churchton, Crofton, Crownsville, Curtis Bay, Davidsonville, Deale, Eastport, Edgewater, Edgewater Beach, Fort George G Meade, Friendship, Galesville, Gambrills, Gibson Island, Glen Burnie, Hanover, Harmans, Harwood, Highland Beach, Lake Shore, Laurel, Linthicum, Linthicum Heights, Lothian, Mayo, Millersville, Naval Academy, Odenton, Pasadena, Riva, Riviera Beach, Severn, Severna Park, Shady Side, Sherwood Forest,Solomons Island,Tracys Landing, West River, Baltimore County, Aberdeen,Baltimore,Dundalk,Essex,Hagerstown,Havre de Grace,Hunt Valley, La Plata,Towson,White Marsh, Howard County, Annapolis Junction, Clarksville, Columbia, Cooksville, Daniels, Dayton, Elkridge, Ellicott City, Fulton, Glenelg, Glenwood, Highland, Ilchester, Jessup, Laurel, Lisbon, Oella, Savage, Scaggsville, Simpsonville, West Friend, Montgomery County, Ashton, Aspen Hill, Barnesville, Beallsville, Bethesda, Boyds, Brinklow, Brookeville, Burtonsville, Cabin John, Chevy Chase, Clarksburg, Colesville, Damascus, Darnestown, Derwood, Dickerson, Gaithersburg, Garrett Park, Germantown, Glen Echo, Kensington, Laytonsville, Montgomery Village, Olney, Poolesville, Potomac, Rockville, Sandy Spring, Silver Spring, Somerset, Spencerville, Takoma Park, Washington Grove, West Bethesda, Wheaton, Carroll County, Hampstead, New Windsor, Union Bridge, Manchester, Sykesville, Westminster,Mount Airy, Taneytown, Queen Annes County, Grasonville, Queen Anne, Barclay, Centreville, Millington, Sudlersville, Templeville, Church Hill, Quenstown, Stevensville, Prince George County, Accokeek, Andrews Air Force Base, Aquasco, Beltsville, Berwyn Heights, Bladensburg, Bowie, Brandywine, Brentwood, Camp Springs, Capitol Heights, Chapel Oaks-Cedar Heights, Cheltenham, Cheverly, Chillum, Clinton, College Park, Colmar Manor, Coral Hills, Cottage City, Defense Heights, District Heights, Eagle Harbor, Edmonston, Fairmount Heights, Forest Heights, Forestville, Fort Washington, lenarden, Glenn Dale, Greenbelt, Hillcrest Heights, Hyattsville, Landover, Landover Hills, Langley Park, Lanham-Seabrook, Largo, Laurel, Marlow Heights, Mitchellville, Montpelier, Morningside, Mount Rainier, New Carrollton, North Brentwood, Oxon Hill, Riverdale, Rosaryville, Seat Pleasant, Silver Spring, Springdale, Suitland, Temple Hills, University Park, Upper Marlboro, West Hyattsville
Fix Construction, Inc.

 Service Areas in Washington (DC)

Capitol Hill, Accokeek, Adelphi, Aldie, Alexandria, Andrews AFB, Andrews Air Force Base, Annandale, Arlington, Ashburn, Aspen Hill, Baileys Crossroads, Ballston, Belle View, Beltsville, Berryville, Berwyn Heights, Bethesda, Bladensburg, Bowie, Boyds, Brambleton, Brentwood, Bristow, Broadlands, Bryans Road, Burke, Burtonsville, California, Calverton, Camp Springs, Capitol Heights, Centreville, Chantilly, Charlotte Hall, Cheverly, Chevy Chase, Chillum, Clarksburg, Clear Brook, Clifton, Clinton, Colesville, College Park, Colmar Manor, Colonial Beach, Coral Hills, Crofton, Crossroads, Dahlgren, Dale City, Davidsonville, Delaplane, Derwood, Dickerson, District Height, District Heights, Dulles, Dulles, Dumfries, Dunkirk, Emery Grove, Engleside, Fair Lakes, Fairfax, Fairfax Station, Fairland, Falls Church, Forest Glen, Forest Heights, Forestville, Fort Belvoir, Fort Myer, Fort Washington, Franconia, Fredericksburg, Front Royal, Gainesville, Gaithersburg, Galesville, Germantown, Glassmanor, Glen Echo, Glenarden, Glenn Dale, Great Falls, Great Mills, Greenbelt, Groveton, Haymarket, Herndon, Hill Top, Hillcrest Heights, Huntington, Huntly, Hyattsville, Indian Head, Kensington, Kent Village, Kettering, King George, Kings Park, Kings Park West, La Plata, Lake Arbor, Landover, Landover Hills, Langley Park, Lanham, Largo, Leesburg, Leonardtown, Lewisdale, Lexington Park, Lorton, Lovettsville, Luray, Manassas, Manassas Park, Markham, Maryland City, Mason Neck, McLean, Middleburg, Middletown, Millersville, Millwood, Mitchellville, Montclair, Montgomery Village, Ntpelier, Morningside, Mount Rainier, Mount Vernon, New Carrollton, Newington, Newmarket, Newport, North Bethesda, North Brentwood, North Potomac, North Springfield, Oakdale, Oakland, Oakpark, Oakton, Oakview, Occoquan, Odenton, Olney, Oxon Hill, Palmer Park, Pender, Pimmit Hills, Pinecrest, Poolesville, Potomac, Prince Frederick, Prince William, Purcellville, Quantico, Randolph Hills, Redhill, Reston, Riverdale, Rockville, Rosslyn, Saint Inigoes, Saint, Inigoes Shores, Saint Leonard, Seabrook, Seat Pleasant, Shirlington, Silver Spring, Solomons, Spotsylvania, Springfield, Springhill, Stafford, Stephens, ity, Sterling, Strasburg, Suitland, Takoma Park, Temple Hills, The Plains, Triangle, Tysons Corner, Upper Marlboro, Vienna, Waldorf, Waldorf, Warrenton, Washington, Washington, Washington Navy Yard, Waterford, Waynewood, West Hyattsville, West Springfield, Wheaton, White Hall, White Oak, White Plains, Winchester, Woodbridge
Fix Construction, Inc.
 Service Area Zip Codes in Baltimore Metro area (MD)
20701, 20711, 20723, 20724, 20733, 20751, 20755, 20758, 20759, 20763, 20764, 20765, 20776, 20777, 20778, 20779, 20794, 21001, 21005, 21009, 21010, 21012, 21013, 21014, 21015, 21017, 21017, 21018, 21020, 21022, 21022, 21023, 21027, 21028, 21029, 21030, 21031, 21032, 21034, 21035, 21036, 21037, 21040, 21041, 21042, 21043, 21044, 21045, 21046, 21047, 21048, 21050, 21051, 21052, 21053, 21054, 21056, 21057, 21060, 21061, 21062, 21065, 21071, 21074, 21075, 21076, 21077, 21078, 21082, 21084, 21085, 21087, 21088, 21090, 21092, 21093, 21094, 21102, 21104, 21105, 21106, 21108, 21111, 21113, 21114, 21117, 21120, 21122, 21123, 21128, 21130, 21131, 21132, 21133, 21136, 21139, 21140, 21144, 21146, 21150, 21152, 21153, 21154, 21155, 21156, 21157, 21158, 21160, 21161, 21162, 21163, 21201, 21203, 21204, 21205, 21206, 21207, 21208, 21209, 21210, 21211, 21212, 21213, 21214, 21215, 21216, 21217, 21218, 21218, 21219, 21219, 21220, 21221, 21222, 21223, 21224, 21225, 21226, 21227, 21228, 21229, 21230, 21231, 21233, 21234, 21235, 21236, 21237, 21239, 21240, 21241, 21244, 21250, 21251, 21252, 21260, 21263, 21264, 21265, 21270, 21273, 21274, 21275, 21278, 21279, 21280, 21281, 21282, 21283, 21284, 21285, 21285, 21286, 21287, 21287, 21288, 21289, 21290, 21297, 21298, 21401, 21402, 21403, 21404, 21405, 21409, 21411, 21412, 21607, 21617, 21619, 21620, 21623, 21628, 21638, 21644, 21656, 21657, 21658, 21666, 21668, 21690, 21723, 21737, 21738, 21757, 21765, 21776, 21784, 21787, 21791, 21794, 21797