Why renovating bathroom is a smart idea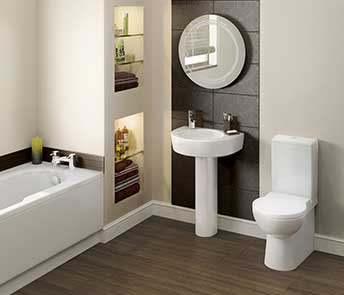 Your bathroom is an important part of your home, as well as one of the most used. When you start and end your day, it's usually in the bathroom, whether you're brushing your teeth or showering, almost every morning and every night starts and ends with the bathroom. Our bathrooms are used so much that they often have to be one of the most frequently cleaned and renovated rooms in our homes.
Between showers, baths, and brushing our teeth, our bathrooms can be one of the most wet and warm places in our homes.
These conditions are the perfect conditions for bacteria and mold to grow if you don't have the proper defenses! According to the University of Illinois, mold grows best between 77 and 86 degrees and in wet conditions, while most showers average around 100 degrees. The steam, moisture, and temperature from the shower can make dangerous conditions where black mold and bacteria can grow, causing not only cosmetic problems in your home but also health issues. We can fix this problem by equipping our bathrooms with proper ventilation. Whether it be windows, vents, or blinds, equipping or bathrooms with proper ventilation can save us and our loved ones from inhaling molds and bacterias.
One of the most private places in our homes are our bathrooms. It's where we go to be alone, to spend most of our "me time".
According to HealthLine, cold showers can release endorphins, or our "happy chemicals" and boost creativity and happiness, but, is it really going to make us happy when we get out of the shower and see peeling paint, chipped tile, and old bathroom appliances? Updating any part of your home gives you a sense of gratification. It makes you feel better knowing that your home was upgraded. It boosts our property value, our happiness, it makes you want to spend more time in that room.
Let's talk about the financial gain when it comes to renovating your bathroom.
If you're bored and scrolling through your television, you'll likely always come across a show with home renovations, young couples looking to buy homes, or people trying to sell homes. When we watch these shows and we see people looking to buy a home, more often than not they'll walk into the bathroom and say "No this isn't big enough" or "This needs to be updated."
Home buyers look for important things in their homes. The bathroom is their private place where they spend their most time. It's a selling point so why not update it?
With your average bathroom renovation costing an average of $10,000 it's no wonder some people want to hold off on it. But what if I told you that's not exactly the case? While the price tag is $10,000 you can easily get a huge return on investment of around 62%. Meaning at closing, that bathroom remodel will add an extra $6,200 to your homes value!
With your bathroom being the most important room of your house, and being the most private, it's no wonder that is where we spend most of our time. Your bathroom can also be one of the most dangerous rooms. Black mold and bacteria can be harmful to you and your family.
Get those appliances updated and get that ventilation installed. Save yourself money and the hassle of health problems. Call FIX today to get a free estimate on your next bathroom renovation at (410) 917-0008.
References: https://web.extension.illinois.edu/healthyair/mold.cfm https://www.healthline.com/health/cold-shower-benefits https://www.homeadvisor.com/cost/bathrooms/remodel-a-bathroom/ https://www.modernbathroom.com/blog/post/2017/06/20/average-bathroom-roi